Jay's WordPress Admin Plugin
Descrip­tion
Des­ig­nates a mono­spaced font in the HTML edi­tor. Maybe more in the future…
Down­load
Down­load Jay's Word­Press Admin Plu­gin from the Offi­cial Word­Press page.
Instal­la­tion
Open 'jays-wordpress-admin-plugin.zip' file to reveal 'jays-wordpress-admin-plugin' directory.
Upload the 'jays-wordpress-admin-plugin' direc­tory to the '/wp-content/plugins/' directory.
Acti­vate the plu­gin through the 'Plu­g­ins' menu in WordPress.
Screen­shots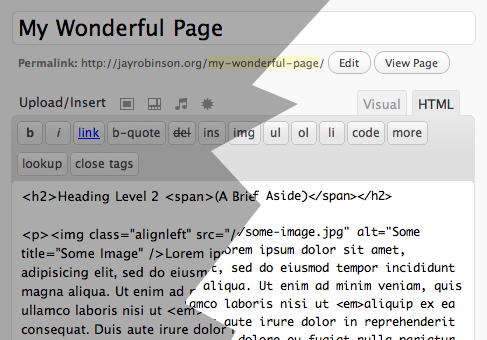 Fre­quently Asked Questions
What is your name?

My name is Jay Robin­son.
Sup­port
For sup­port, please .
Change Log
1.0 — Note — Decem­ber 4th, 2009

Added to Word­Press Plu­gin direc­tory last week. Removed down­load links from my site and replaced with links to WordPress.org. Renamed direc­tory names for Installation.

1.0 — Ini­tial Release — Octo­ber 21st, 2009

I've cre­ated a Word­Press plu­gin to fix an issue I have with the Word­Press Dash­board: the HTML edi­tor is not mono­spaced. I don't like read­ing code in 13px Lucida Grande, so I wrote a plu­gin to add a stylesheet with 12px Monaco.

I may add more in the future.