The Microsoft Experience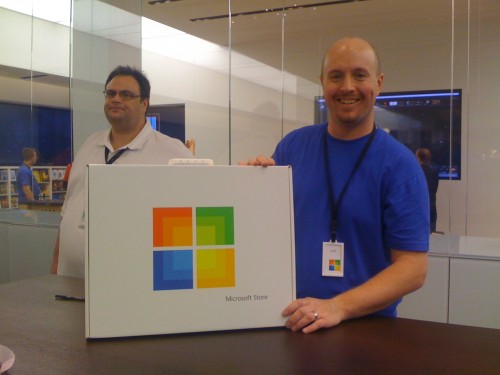 On Octo­ber 22nd, 2009, Microsoft opened their first retail store in sunny Scotts­dale, Ari­zona. I was there to wit­ness the event.
It's no secret that Microsoft Stores are a bla­tant rip-off of Apple Stores. And from Microsoft's behe­moth cof­fers, they spared no expense. It's impres­sive, but ulti­mately raised more ques­tions than answers.
An intrigu­ing fea­ture of the Microsoft Store is their "Sig­na­ture Ser­vice." They take the PC you want to buy, remove it from the manufacturer's box, remove stick­ers and plas­tic wrap, then place it in a white, styrofoam-lined box with a Win­dows logo. This is after, of course, they have removed all the "unnec­es­sary mal­ware" from the machine, "to pro­vide a bet­ter expe­ri­ence." From this, we under­stand that Microsoft will under­mine their part­ners mar­ket­ing in an effort to pro­vide a bet­ter expe­ri­ence. Huh? First ques­tion: Why wouldn't you just get a Mac?
But there are more. Marco Arment has a ton:
"To what extent will they offer PC sup­port? What if you didn't buy the PC from a Microsoft Store? What if it's one of the same mod­els that the Microsoft Store sells, but you got it from Costco or the manufacturer's web­site? What if you built your PC your­self from parts? Will sup­port ever cost money, and if so, how much, and under what con­di­tions? If it will be mostly free or cheap, what's stop­ping Microsoft Stores from becom­ing over­whelm­ing zoos of peo­ple wait­ing on line to plunk down their crap­books with mal­ware infes­ta­tions? And if a lot of peo­ple go to the Microsoft Store for sup­port, how will this affect the retail part­ners, such as Best Buy, who make a lot of money per­form­ing PC sup­port ser­vices today?"
Marco is right in ques­tion­ing how far Microsoft is will­ing to go to pur­sue their goal (be more like Apple?). A series of extremely expen­sive flat screens line the inte­rior walls of the Scotts­dale Microsoft Store. They act together to dis­play high def­i­n­i­tion con­tent that sweeps around the store. Does Microsoft intend to sink this much money into all of their stores?
Is this all a mar­ket­ing blitz to recover from the fail­ure of Vista, or is Microsoft here to stay? How does Microsoft aim to com­pete with Apple Retail, which has estab­lished over 200 stores world wide? Steve Ballmer has been down­play­ing Apple's pop­u­lar­ity lately, say­ing that Microsoft is a com­pany hun­dreds of mil­lions of cus­tomers, while Apple's share is quite mea­ger by com­par­i­son. But does Microsoft want every PC in the world to be sold in their white styrofoam-lined boxes? Are they ready to?
The final ques­tion, then, Why is Microsoft almost nine years late to steal­ing this idea from Apple? They've got a lot of catch-up to do.
I've posted some pic­tures of the Microsoft Store on my Flickr Account.