Coda Emulated in WebKit
Also fea­tur­ing
HTML5

,

CSS3

&

jQuery

I got tired of the bor­ing look of a stan­dard Apache web direc­tory. So instead of brows­ing fold­ers the default way, I built a small index.php file in the root, grabbed all fold­ers dynam­i­cally, injected them as HTML5 and styled them with CSS3. Since I work with Coda all day, I chose to emu­late their Sites View inter­face. Coda is a great text editor/FTP client for Mac OS X. If you're not famil­iar with Coda, check it out at Panic's web­site.

About the Coda-fied web direc­tory — my code is com­pletely self-contained and portable. It also uses no images for style. All gra­di­ents are gen­er­ated with the CSS3 gra­di­ent pro­posal, best sup­ported by WebKit. The screen­shot thumb­nails can be gen­er­ated dynam­i­cally. Below is a pre­view, and a few notes on how it's made, and a link to the work­ing demo.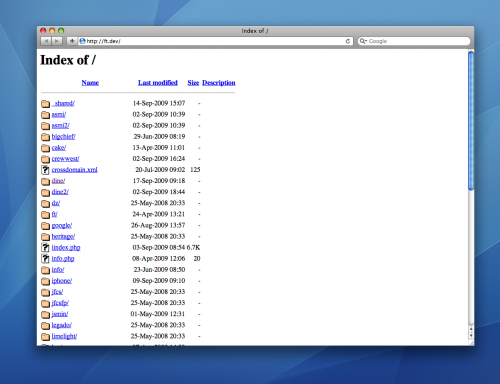 Hover for alter­nate view.
Let's get started.
Before you jump right to the demo, remem­ber that it works best in the lat­est ver­sion of Safari or WebKit Nightly, and works pretty well in Fire­Fox 3.5 or greater. Thanks for tak­ing a look. I hope you enjoyed it as much as I did.
Short URL: http://jwr.cc/x/1i